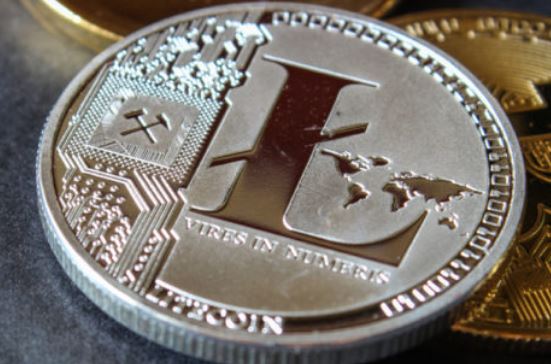 Litecoin (LTC) has been on a roll for the past few weeks. The hype and FOMO around its next halvening in August, 2019 has played well in favor of LTC/USD and we have seen the price rise significantly in the past few weeks compared to other coins. That being said this rally has now come to a halt as the price is about to run into a strong resistance. We do not expect LTC/USD to break past the 50 week moving average. Stochastic RSI on the weekly time frame for LTC/USD indicates that the price is due for a strong decline to the downside in the weeks ahead. Of course, the Stochastic RSI is just one indicator but other factors point to the same conclusion. The price lacks the momentum to break past the 50 Week MA and has already faced a strong rejection at the 61.8% Fib retracement level.
The last time LTC/USD was in a similar position was in March, 2015 when the price had topped out on the weekly time frame and was ready for a move to the downside. This time, the price is once again close to running into a strong trend line resistance. There is a high probability that it will have the same effect and we might see LTC/USD retrace all the way down to its December, 2018 lows. Given the intensity of this move, we expect LTC/USD to fall slightly lower and make with a weekly wick extending to $20. This would be the true bottom for Litecoin (LTC) and a good time to start accumulating. Please note that we expect the next correction to be even harder on most other cryptocurrencies. However, considering that LTC/USD is yet to profit from its next halvening, its demand will remain high despite the decline.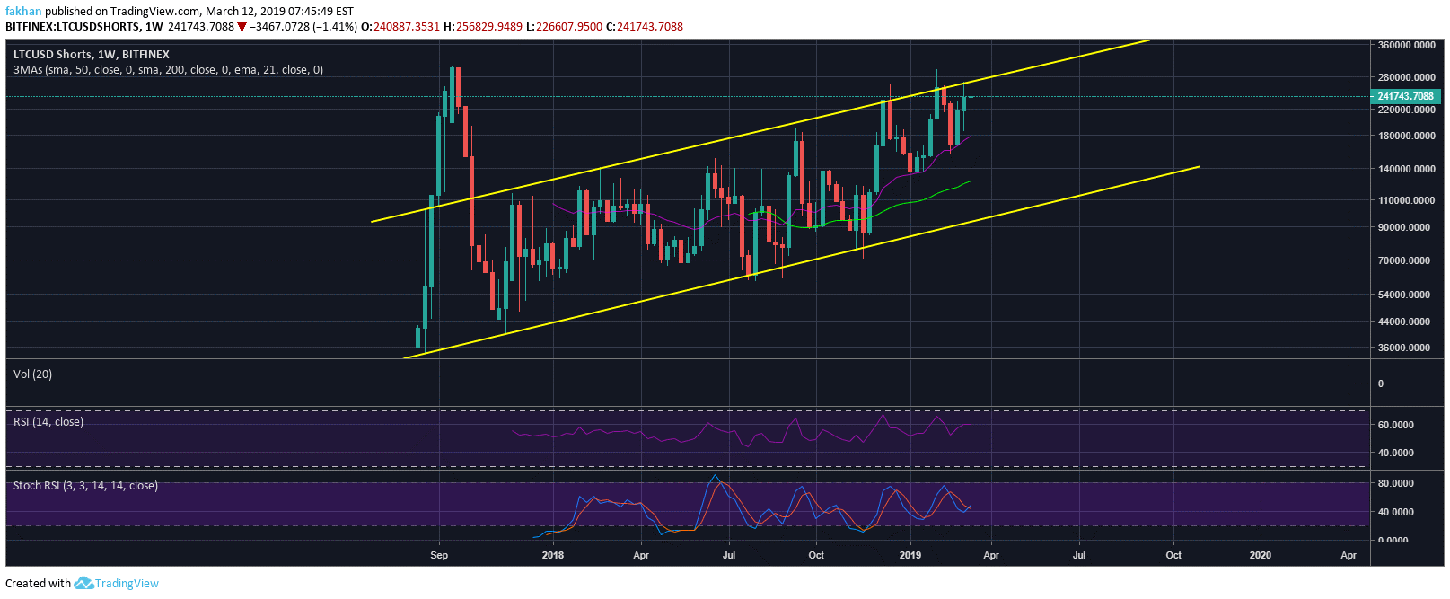 This rise in demand for LTC/USD is also shown by the number of margined shorts which has now run into a trend line resistance. If LTCUSDShorts starts to decline, we might see a strong rise in LTC/USD as the sell pressure alleviates. It is important to note though that the number of margined shorts is still trading in an ascending channel and is expected to continue to do that until Litecoin (LTC) bottoms and we see a strong move to the upside. So far, none of that has happened and Litecoin (LTC) bears remain confident that this rally is overbought and the price of Litecoin (LTC) has to come down at some point.
Litecoin (LTC) has seen a similar rise in demand during its previous halvening as well. The Coinbase listing was an added advantage which helped pushed Litecoin (LTC) north of $300. This means that seasonal demand for Litecoin (LTC) still exists despite questions over its use case. Institutional investors who want to tap into this $100 billion dollar market would also invest more readily in coins like Litecoin (LTC) given its transaction speed, ease of storage and high liquidity.
The post Litecoin (LTC) Primed For Double Digit Decline In The Weeks Ahead appeared first on cryptodaily.co.uk